Pleased to have a story in this collection from Egaeus Press:
This is a book on the subject of Death and Folly (but aren't they all really?): An entertainment including works from some of the finest authors of the weird and morbid working today: A collection of admirable knick-knacks and curios, fictions, non-fictions, poems, for your amusement.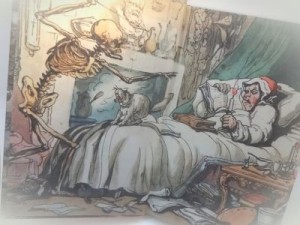 The full table of contents is as follows:
THE BONE-CAGE BLUES by Cate Gardner
THE CRYPT OF YEDDI GUMBAZ by Albert Power
DEATH HAIKUS by David Yates
SZÉKELY'S LAST PLATE by D.P. Watt
TARTINI'S FINAL DREAM by Chris Kelso
DEATH AND THE BALLADRESS by Adam Bolivar
THE PROMISE OF SAINTS by Angela Slatter
GENTILE FANCIULLACCI PASOLINI by Paul StJohn Mackintosh
DARKNESS by Ismael Espinosa (translated by George Berguño)
DEATH BECOMES HER by Icy Sedgwick
THE GREATEST FOLLY by Leena Likitalo
ANODYNE SOLUTIONS by Kaaron Warren
ALL THE WILD ANIMALS by Brendan Connell
A MONUMENT by Adriana Díaz Enciso
PROFIT AND LOSS by Hayden Peters
BLACKHEARTS AND SORROWSONG by Suzanne J. Willis
EDWIN'S CURSE by Kayleigh Marie Edwards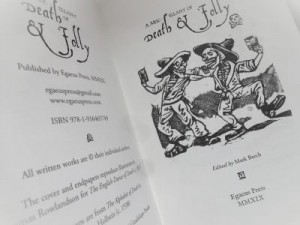 The book is a lithographically printed, 250 page sewn hardback with colour endpapers; limited to just 300 copies.
ISBN 978-1-916465749.
It can be purchased now for £35.00, inclusive of postage worldwide.